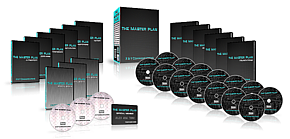 Every man is a natural at picking up women.  Some men just haven't realized it yet.  Have you reached your potential with women?  Are there skills you have yet to discover?  Unleash your natural talents and learn just how to become a natural at getting women with The Master Plan.
Are you Programmed?
One of the top reasons why men fail with women is because they have been programmed to think they will fail.  The Master Plan teaches you how to undo the programming and bring out the natural, masculine skills you were born with that will drive women wild.
Stop dating women you don't really want to date.  Put an end to women saying let's just be friends.  Start attracting the women you want.  Become a master of conversation and never suffer through awkward silence with a woman again.  Figure out everything that you need to know to be the ultimate ladies man.
The Program
The Master Plan is made up of 14 audio programs.  Each program is packed with great, useful information.  Take a little look at what to expect from each one:
Audio Program 1: The Master Plan for your Dating Life
This program will help you to define exactly what you want in a woman, so that you have a goal to aim for.  When you know what you want, it makes it that much easier to get it.
Audio Program 2: Ambition, Motivation and Passion
Learn how having direction and being ambitious directly effects your love life.  Find out to create vision in your life and use that to help you be a success in love.
Audio Program 3: Masculinity that Ignites Femininity
Discover how regaining your masculinity and embracing that will help you to make women go wild for you.
Audio Program 4: The Cornerstones of Character
Find out how important character is to getting a woman.  This is often overlooked in most dating and relationship books, but there are specific character traits you must have to be a success with women and they are explained here.
Audio Program 5: Authenticity that Inspires
Being genuine is a must for keeping a woman.  Find out how to be your authentic self.
Audio Program 6: Real Confidence
Faking confidence never works.  Find out how to really be confident so it radiates and draws women to you.
Audio Program 7: The Engineer's Guide to Being Cooler than the Salesguy
Learn how to get the one trait that every guy needs – coolness.  Any guy can be cool, naturally.  Find out how.
Audio Program 8: How to Emerge Victorious
Get the mindset of a champion and let that lead you to success.  Men who are victorious with women have the same mindset as a champion and in this program you learn about getting that champion mindset.
Audio Program 9: How to Have Superpowers with Women
Learn how to draw women to you like a magnet.  Get secrets to becoming irresistible.
Audio Program 10: How to Succeed with Women Regardless of your Personality Type
Don't change yourself for women.  Use what you have.  Women love any personality type and you will find out all about that in this program.
Audio Program 11: How to Understand, Evaluate and Relate to any Woman
Learn how to reveal the mystery of any woman and charm her with ease.
Audio Program 12: Body Language and Non-Verbal Communication
Find out what you need to know about body language – both using it and reading it.
Audio Program 13: How to Outfit your Life for Success with Women
Make sure your lifestyle can support your new love life.
Audio Program 14: How to be a Man of Power and Influence
Learn how to be a social powerhouse that women desire.
Not only do you get all these programs, but you also get some great bonuses:
Bonus #1: Learn the art of approaching women.
Bonus #2: How to be a man of high value.
Bonus #3: See what makes you a natural with women and how to bring that out in yourself.
Bonus #4: Learn how to master your environment and rule your own life.
Click here to learn more about The Master Plan.