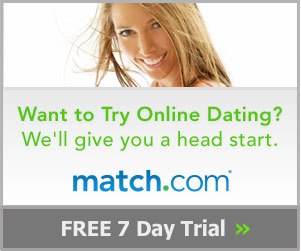 Another big power player in the online dating industry, Match.com, is respected and successful.  Match.com is one of the only dating sites that offers a guarantee with a 6 month membership subscription.  You get 6 months to find a match and if you don't then you get 6 more months free.  The 6 month guarantee is one of the best advantage of Match.com. The 6 month membership costs $17.99 a month.
With membership you can see if your sent messages have been read and you get your profile sent out first to matches over free members.  Other features of this site include mobile service where you can use your cell phone to connect with singles. This allows you to stay up to date with your matches; yo don't have to worry all day whether or not you got an email back and you can plan your response through out the day after reading your emails.
Match.com offers you the typical things you would expect from an online dating site.  You get access to communication tools, quizzes and matching software.  The database of users at Match.com is rather large with new members signing up everyday.
Match.com is one of the top sites out there because it has been established for years, is well respected and has plenty of success stories from people who have met the love of their life through the site.  This is a great general online dating site for anyone who is serious about finding love.